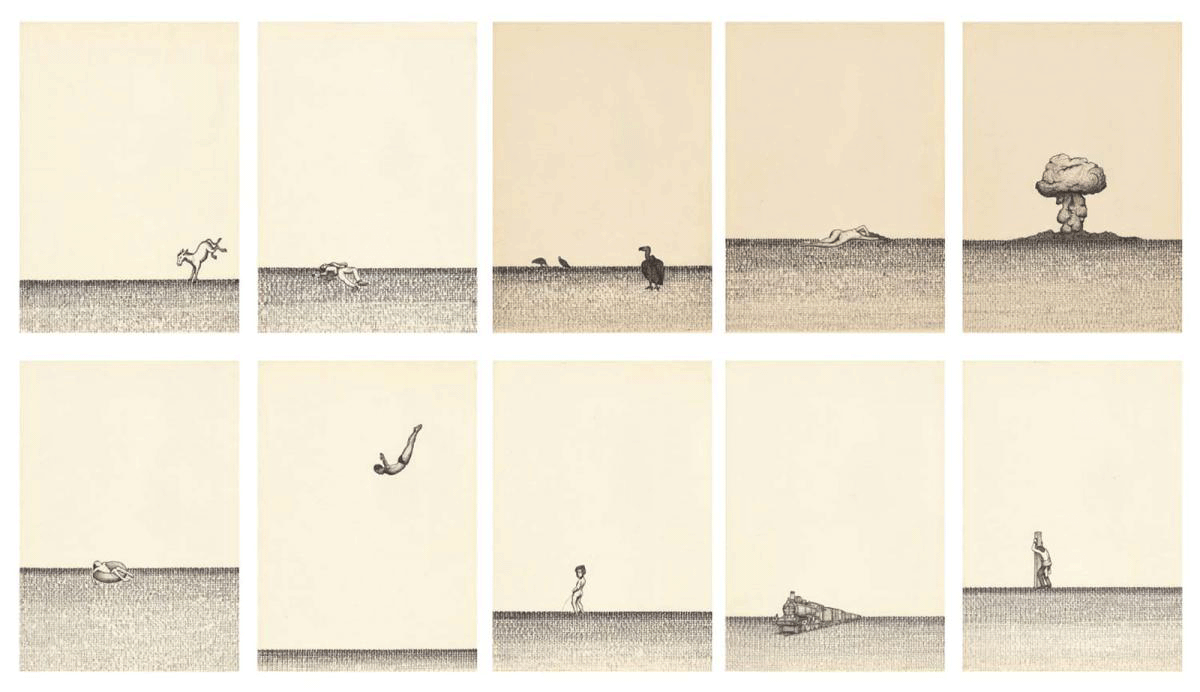 The Atlas of Reds and Blues:
an interview with Novelist and Poet Devi S. Laskar
By TNG Online Contributor Amy M. Alvarez
Devi S. Laskar's first novel, The Atlas of Reds and Blues, maps in the intersection of American racism and sexism. It is rife with aggressions—both micro and macro—toward the protagonist—a Bengali-American woman known to the reader only as "Mother." Her name, or lack thereof, both gives us a sense of her priorities, but also how she is seen by the outside world: "just" a mother despite her professional life as a journalist and writer.
The novel opens on Mother bleeding in her driveway in the elite suburbs of Atlanta, Georgia after the state police have raided her home without cause and shot her for not silently consenting to their warrantless search. Each ensuing chapter is a fleeting memory of Mother's girlhood (back when she was known as "The Real Thing"), her young adulthood, and her near present life.
Atlas shines a light on the difficulties of being brown and female in a place with a history of race-based slavery, Jim Crow segregation laws, and pro-life legislation. But it is also a tome that explicitly exhibits what modern racism looks like. It looks like the women in Mother's wealthy neighborhood: "life-sized…Barbie dolls maintaining their Southern hospitality smiles as they pick at imaginary lint on their tennis skirts" looking curiously over their hedges as their neighbor bleeds on her driveway, as the police look on and do nothing to stanch the flow, more curious about the CNN truck's arrival than that of an ambulance.
The idea of dolls, Barbie dolls in particular, reoccurs throughout the novel as Mother recalls her own experiences with dolls growing up as well as a visit to the Barbie museum in Japan with her husband. Facts about the doll are injected in short chapters with little commentary, like this one on page 177: "In 1997, Mattel tried to cross-advertise Barbie with Nabsico's Oreo cookies. The public pointed out that Oreo is a slur for African Americans—and forced Mattel to recall this particular campaign. Oreo dolls are now a collectors item." Like so much else in Atlas, the true horror lies as much in what is said as what is kept silent.
Given that the novel is narrated by a narrator who is losing consciousness, it is written in short segments, many of them entitled "&"—a means of showing the interconnectedness of Mother's experiences and the ways in which Barbie has made so many American girls—no matter their skin color, type of physical ability, or size—feel othered.
The Atlas of Reds and Blues tackles overt, covert, and systemic racism and sexism in way that is profound and moving without ever dipping into sentimentality. Even as the narrative grows increasingly fragmented, you feel that you are in the hands of a master observer, a writer who will lead you to a place worth seeing and understanding. It also makes it abundantly clear that American readers must see and understand the experiences of those who have been "othered"—especially women of color. The novel pushes the reader to answer the questions Laskar sets out early in the novel for themselves: "When you put American clothes on a brown-skinned doll, what do people see? The clothes? Or the whole doll? Or only the skin?"
Devi S. Laskar is a native of Chapel Hill, N.C. She holds an MFA from Columbia University, an MA in South Asian Studies from the University of Illinois and a BA in journalism and English from the University of North Carolina at Chapel Hill. A former newspaper reporter, she is now a novelist, poet, photographer and artist. Her photographs include the cover of The Florida Review; and have been published in Tiferet Journal and Blue Heron Review.
Her poems have appeared or are forthcoming from The New Guard (Vol VII), The Atlanta Review, Rattle, Fairy Tale Review, Tin House and The Raleigh Review, which nominated her for Best New Poets 2016. Her fiction is forthcoming from Crab Orchard Review. She has been nominated for a Pushcart Prize and Best of the Net. She is an alumna of both TheOpEdProject and VONA, and is also an alumna of poetry workshops at the Community of Writers at Squaw Valley. In 2017, Finishing Line Press published two poetry chapbooks, "Gas & Food, No Lodging" and "Anastasia Maps." Counterpoint Press published her debut novel, The Atlas of Reds and Blues, February 2019. She now lives in California with her family.
Devi S. Laskar, a native North Carolinian, now resides in California. I am a New Yorker who currently lives in West Virginia. Hence, we conducted this interview via email.
Amy M. Alvarez: I understand that you were a poet before you entered the world of fiction. Can you tell me about how your work as a poet impacts the way you conceptualize fiction?
Devi S. Laskar: I consider myself a poet first, then a prose writer. For a time I was also a newspaper reporter – I have had a lot of teachers and editors tell me over the years to keep it short. I've always been interested in using compression techniques in longer work, trying to make the prose concise and quick-paced.
AMA: The novel is written in a somewhat fragmented fashion, mirroring Mother's experience of shifting in and out of consciousness as she bleeds out in her driveway, but also mirroring her experiences as a working woman and mother of three who often did not have time to write for long stretches. Can you tell me a little about your own writing process? Do you often write like your protagonist—catching a moment here and there to take notes?
DSL: I've noticed that when I know I'm writing a poem, I can write it anywhere – I just need my notebook or even the notes function on my smart phone. However, if I'm working on something longer, then I must be sitting in front of my computer at my desk in the mornings. That's where and when the novel happens. When I'm sketching out something new, I write longhand. Otherwise I tend to rely on a screen and keyboard.
AMA: The presence of dolls throughout the novel—especially as cues for "ideal American" (i.e., white) womanhood and American materialism—resonated with me. When and how did the thematic construct of dolls enter the novel?
DSL: This story began in 2004 as a short story that I needed to submit for a writers' conference in California. Its original title was When the Dolls Leave the Dollhouse, a nod to the model-minority myth that follow Asians around in America. It was a family story. There were dolls then, but not many references to Barbie dolls specifically. I lost most of my work in 2010 during a raid at my former home in Georgia, including most of this story. When I finally was able to return to this story in 2014 and re-imagine it (and rewrite it) I beefed up the Barbie sections. Barbie dolls are iconic American toys and they present an impossible standard of beauty for girls in America and around the world. I wanted to turn my family story into something different.
AMA: The Mother does her utmost to protect her husband, "her hero," from the racism she and her daughters face. For example, she never tells him about how her daughter is being bullied in school. Yet she also uses her proximity to his whiteness to get what she needs (the MRI for her daughter after her bullies have injured her, for instance). Can you tell me more about your intent in presenting their relationship in this way?
DSL: There had to be an "innocent" person in the family that Mother and daughters were making sacrifices for; and Mother and daughters chose the hero because he is white and he will never fully understand what it means to be a woman of color in America. They didn't want him to lose his optimism and hope. The hospital scene was less about him as the white man to the rescue, and more about power dynamics between people of authority (the doctor, the white husband). I think Mother and her hero have a good marriage that is pocked by long absences.
AMA: Silence, in general, is a thread throughout the novel. From Greta the dog's "speaking" to Mother playing the "Quiet Game" when she is frustrated with her own mother's accusations of "overdoing everything," we see the notion of silence and speech as they relate to femaleness. What are your thoughts about how women of color are silenced and how you feel these ideas play out through Mother's moments of silence?
DSL: Good questions! For me, it goes back to the Model Minority Myth – Asians are seen as the model minority because they purportedly get good grades, pay their taxes, don't talk back. This silence is also true for women in America, they are often the second-class citizens in the workplace and are expected to remain silent. They are seen as dolls, something on display but not heard. I wanted to explore this myth in the book. Racism, misogyny, invisibility and being treated as Other all stroll hand in hand with each other. Since Mother is not typically "seen," she is also typically not "heard." By calling attention to the silences, they become loud. Also, I wanted to create an untenable situation for the Mother character, to see what happens next.
AMA: In the novel I felt echoes of the brutality faced by Sandra Bland as a woman of color, as well as Sureshbhai Patel, an Indian man who was shot by police in the Deep South. Were these stories, or other instances of police brutality toward people of color, present for you as you wrote the novel?
DSL: Yes. And, unfortunately, I have my own experiences to draw from as well. My husband was targeted by his former employer in Georgia in 2010, and the state police raided my house at gunpoint. I was not shot. It is a literary conceit to have a "life flashing before your eyes" narrative - and it is also somewhat true when a policeman is pointing his assault rifle at you, you tend to think about the important moments in your life, and your family, very quickly. I wanted to give that feeling to the Mother narrator so she could impart it to the readers. It is hard to talk about racism and gun-violence and police in America without people feeling defensive and attacked. I wanted to write a book where these issues could be explored in the context of a single family. My hope is that this book will spark candid conversations that will lead to positive change.
AMA: I've recently moved south (West Virginia) after growing up in New York and living in Boston. As a brown woman, I've had some interesting experiences since moving further south. As a southerner who now lives on the west coast, has your daily lived experience of race and racism shifted (or remained exactly the same) since your time in the south?
DSL: I bet it's been quite a change for you. It's very different for me these days. There are a lot of people of color in California; I'm no longer singled out. When I return to the South to visit friends and family, I immediately feel the shift in attitudes. I see signs and monuments in plain view, celebrating white nationalism and the Confederacy – and it's triggering.
AMA: I know you've been asked before about your choices in not giving your characters names in the traditional sense. I'm especially interested in your choice to call Mother "the Real Thing" in childhood. Can you tell me more about this choice?
DSL: It's a bit of a circuitous answer, please bear with me. I'm Bengali, and in my family we never addressed each other by our given names. Instead we all had relational titles and all the cousins had matching nicknames. Also, I'm the daughter of an academic. I had the great privilege of traveling with my family when I was young, to Europe and Asia. Everywhere we went people asked me where I was from, and I said America. Upon hearing my response, (during the 1970s and 1980s) everyone's immediate reaction was Oh, America, Land of Barbie Dolls and Coca-Cola. That's how America was viewed from abroad, a place where everyone had tons of Barbie dolls and soda came out of the kitchen faucet. I already mentioned the importance of Barbie in the novel. Well, it turns out that if you say my nickname really fast five times it starts to sound like "real thing" and that was a popular slogan for Coke a while back. So, it was my nod toward a memory of childhood and it was also happened to be appropriate for the story of the narrator who feels out of place and invisible.
AMA: Mother reads throughout The Atlas of Reds and Blues--Beloved, One Hundred Years of Solitude, The Ramayana and several other texts with female protagonists make appearances. Were these texts influential in your creation of Atlas?
DSL: I'm a voracious reader, and I have been for decades. I wanted to call attention to some of the many books that I have been immersed in and re-read over the years. All of the books that I mention in the novel have two things in common, exquisite language and well-realized, self-contained worlds. I wanted to acknowledge them somehow. The books that influenced Atlas the most are Sandra Cisneros' The House on Mango Street and Claudia Rankine's Citizen, and Mary Robison's Why Did I Ever?
AMA: What are some of the books on your nightstand at the moment?
DSL: Deaf Republic by Ilya Kaminsky, The Tradition by Jericho Brown, and I'm in the depths of Esi Edugyan's wonderful novel, Washington Black.
::TNG::
Amy M. Alvarez's poetry has appeared or is forthcoming in The New Guard Review, Rattle, Sugar House Review, Storm Cellar and elsewhere. She was nominated for a Pushcart Prize and is a VONA alum. Amy has read her work at Bowery Poetry in New York and at The Cantab, East Meets West Books, and Newtonville Books in the Greater Boston area. Amy holds an MFA in creative writing from the Stonecoast Program at University of Southern Maine. Born in New York, NY to parents of Jamaican and Puerto Rican descent, Amy currently lives in Morgantown, WV and teaches at West Virginia University.
The Atlas of Reds and Blues: an interview with Novelist and Poet Devi S. Laskar by Amy M. Alvarez, copyright © The New Guard, 2019. All rights reserved. Shanna McNair, Editor.
TNG & the writer's hotel COMMUNITY NEWS
Our next author interview/ book review is coming soon. Stay tuned! ::Our reviews center on writers published in TNG.::
New TNG readings are TBA. Past Readings in Maine have included such readers as Charles Simic, Tess Gerritsen, Bill Roorbach, Scott Wolven, Jaed Coffin and Sarah Braunstein. NYC Readers have included writers such as Jeanne Marie Beaumont, Roger Bonair-Agard, James K. Zimmerman, Harry Newman, Adeeba Afshan Rana, George Drew, and Caron A. Levis. Thanks so much for coming out and giving your support!
:: Check back for more interviews, articles, news and TNG reading events to be posted here on our Community Page. Past TNG Community article authors are Erin Adair Hodges, Matthew Stephen Sirois and Kelsey Smith. TNG and The Writer's Hotel are here to serve the greater literary community, in practice and in print. ::